Finalist at FIS Awards 2017 – Design & Contractor Installation over £1 million Category
---
In 2015 UNiDAYS approached Proici with a formidable request; could we develop their unique Head Office, a 6 storey lace mill building dating back to 1907 in central Nottingham totaling 2400m2 (25,800 sq ft) and transform the dilapidated interior where 4 floors were currently derelict and create a modern, contemporary office to accommodate up to 350 staff.
We were also tasked to improve the appearance of the building which was worn and bygone with both exterior and interior not projecting the image of UNiDAYS, a vibrant company, Winner of Lloyds Bank Digital Business of the Year Awards and The Sunday Times 9th Fastest UK Growing Tech Company.
Naturally we were excited to work with UNiDAYS to meet the challenge… – Martin Harcourt
The UNiDAYS Lace Mill building is relatively unique, having retained many of its original architectural features which have been removed in similar buildings in recent years in Nottingham, we wanted to create a natural synergy between UNiDAYS and the buildings origins and spent many hours selection materials which could be associates in the design. This Proici interior design would ultimately help UNiDAYS define their brand, linking Nottingham, Nottingham Lace & UNiDAYS together and this design will be represented throughout the UNiDAYS global office network.
From concept, through to completion Proici has managed every element within this multi-million-pound project utilising our in-house creative design team and experienced quality installation team to achieve a potentially award winning development that our client and Proici will admire for years to come.
---
Site: Castle Boulevard, Nottingham
---
Occupancy: Office Space
---
Size: 2,400 Square Metres (25,833 Square Feet)
---
Project Value: Circa £1.3M
---
Time Scale: 32 week
Development:
Main Gallery
---
Ground and Basement Floors
The ground and basement floors created a significant challenge, the space had been un-used for many years and damp had become the resident occupier with all the window frames having rotted and boarded for security. We needed to create a light and pleasant working environment to encourage the employees and boost morale in the workplace.
The first step was to consider the lighting levels, to begin we removed all 32no. rotten timber windows and doors and replaced with powder coated aluminium, solar control, thermally insulated and security double glazed windows and doors. To enable additional light to stream into the ground floor we installed a large 6m x 2m aluminium roof light and we penetrated the ground floor to create a 4m x 5m atrium to create a light tunnel to dramatic effect and expose more light into the dark and dingy basement.
To overcome the damp the walls were damp proofed & tanked before all walls and ceilings were plaster boarded, skimmed and decorated to blend in seamlessly with the remaining design plan.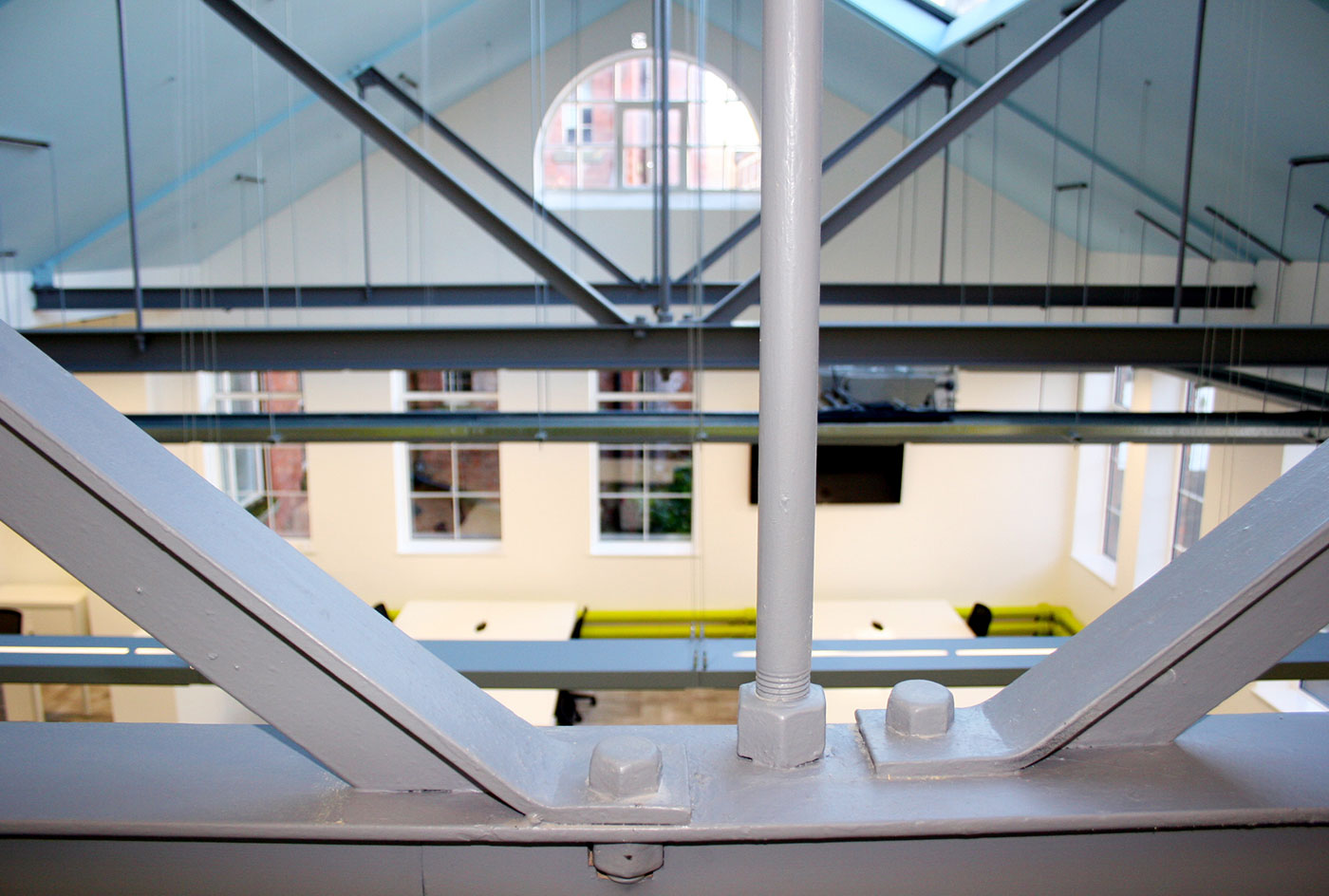 Third and Fourth Floor
Working from the top of the building Proici designed then constructed the third and fourth floors creating offices, meeting rooms, meeting booths, breakout space, teapoint and dining areas and WC environments. We removed large rotten timber roof windows and replaced with powder coated aluminium, solar control and thermally insulated double glazed roof light windows each 6m x 2m generating wonderful natural light levels.
---
Bespoke Design
We designed and constructed unusual, one-of-a-kind bespoke features within the building including a solid Oak Auditorium seat & stair linking the basement and ground floors to enable staff to sit & work while allowing a natural light tunnel through to the basement. A seating solution was designed and utilised on the Oak stairs to aid the merging of the surrounding space.
One of the key features of the ground space was a bespoke Proici design and construction of a Tree House information meeting and breakout space which alongside small reclaimed shed meeting spaces, had a cargo net installed on the higher platform for a unique breakout experience.
A full mechanical, electrical, lighting and data solution was designed and installed working with the natural building structure restrictions and maintaining clean sight lines.
We designed and constructed a village of Beach Hut meeting booths with an adjoining Changing Hut cloak area in order to give a diversity of meeting spaces while the floor covering material was sourced to aid the beach theme.
The design team worked intensively to select and source floor covering materials to aid each of the buildings themes and to adhere to the desired aesthetic appearance of each space including an mesmerising zen design on the ground floor.
---
Scope of work
75mm & 100mm solid partitions
Acoustic fabric curtain booths
Acoustic Meeting Booths & Carriages
Air Conditioning Systems
Bespoke feature joinery
Bespoke furniture
Bespoke laminate doors
Bespoke Nottingham Lace Fret Panels
Bespoke oak auditorium seat stair
Bespoke signage
Bespoke teapoint & dining furniture
Bespoke teapoint & dining joinery
Bespoke Tree-house joinery
Bespoke WC joinery
Cable management
Damp proof & Tanking
Data installation
Decoration
Design & Build
Double glazed 12mm toughened glass doors
Dry lining
Electrical installation
Eternal aluminium windows/ doors/ roof lights
Extraction Systems
Film & Graphics
Fire alarms
Floor covering
Frameless double glazed 10mm/ 12mm toughened partitions
Frameless single glazed 10mm/ 12mm toughened partitions
Fresh Air Systems
General joinery
Glass balustrade
Lighting solution
Media solutions
MF ceilings
Office and leisure furniture & seating
Passenger Lift
Paxton access door systems
Plaster Skim
Plumbing
Roof works
Sand blasting
Sanitaryware
Security alarms
Single glazed 12mm toughened glass doors
Structural Piling
Thermal, Solar and Security glazing
---