Nationwide Estate Agent Design and Refurbishment
Estate Agents
Make a Strong and Lasting Impression
The property sector is a fierce market for any estate agent, expectations are ever increasing with innovation playing a large role in making you stand out from the competition.
The shopfront is a major contributor to potential business, it needs to grip the client on their first glance and subconsciously imprint the success and longevity of the company into their minds, ensuring a trustworthy relation.
Setting up your front of house to make a strong and lasting impression is essential in sending out the right signals to your clients whilst clearly visible signage and interior visibility play an equally large role in creating a hook for clients.
"Proici were originally tested on the South Coast where we had taken the decision to extend the footprint of our Palmer Snell brand."

"Their designs and ideas were without doubt original and for some Countrywide members, quite a challenge to originally digest. When complete, the quality of work was exceptional and the tight deadlines were always met, despite having to work with our numerous departments that included IT and Premises."

"The feedback from our local management teams, our branch based colleagues and customers meant that our relationships with Proici extended to all parts of national network. We were particularly pleased to see staff retention increase together with our financial results."



---
– Vince Corley (Board Director Estate Agency – Countrywide)
The designs created by Proici are still at the forefront of nearly every estate agent – nationwide!
---
Why work with Proici? – Proven Design
Proici innovative designs are still at the forefront of estate agent design
---
In 2010 Proici was approached by Countrywide PLC, the industry leading estate agent chain to assist them in reinvigorating and modernising their branding design.
Countrywide noticed that a number of their brands including Abbotts, Bairstow Eves, Mann and Miller were dated, uninviting and couldn't meet the ethos that countrywide desired to promote, being the most professional and expansive company in the market sector.
Initially focused on the Palmer Snell Brand in the south east coast of the UK, we created a revolutionary design which is now the forefront of nearly every estate agent design around the country and is still the cornerstone of welcoming design.
Pleased with our remarkable and innovative design and refurbishment transformation, we were then proudly bestowed with the responsibly of executing a country wide roll-out program over an additional 17 brands each covering 15-30 branches nationwide including:
London, Nottingham, Devon, Birmingham, Manchester
The East coast, The West Coast, across the Midlands, and more.












Why Choose Proici?
---

Results Matter
Why Proici receives so much returning business
---
At Proici we pride ourselves in understanding not only your business but your market sector, we believe it is important to know what your target audience wants and how to provide a specific and specified service to them.
We have taken it upon ourselves to scour the minds of creative individuals, psychologists and the general public to gain a strong and confident understanding of the target market which estate agents pursue and additionally a new world of potential clients which had not been readily available prior to the works.
Proici Commercial Interiors has a passion for the psychology behind design, what colours complement which business tactics, how to optimising bounce lighting to create the correct welcoming ambience, how we can implement electrical appliances to further aid ease of access.
Customer Experience
---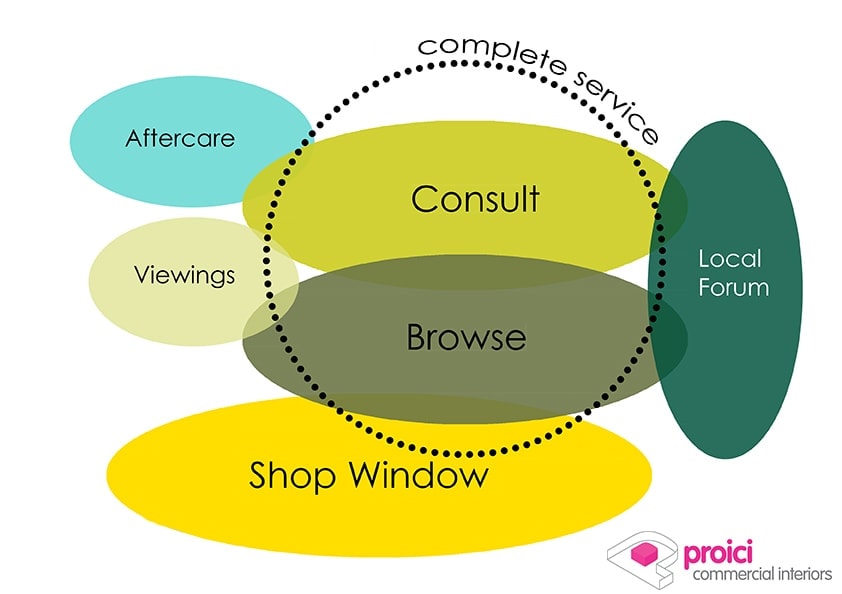 ---
Creating Natural engagements
---
We understand that your business is as much an office as it is a shop therefore creating the correct balance between workplace and break out / lounge space is a focal point in our designs. Studies have shown that a break out space with comfortable seating and a more casual, "Domestic" presentation encourages potential clients to remain within the building and allows them to feel at ease rather that grabbing particulars and rushing out, in-turn allowing for more natural engagements.
Particular attention is given to improving "kerb" appeal from the street level, incorporating the brand values into the designs and modernising the property displays, creating a professional synergy between exterior and interior which further complements the final package.
---
"If your shopfront appeals to potential sellers, it will instil the confidence that this agency will be able to promptly turnover the property."
– Nick Bartello (Director – T2 Storage Solutions)
---
Natural engagements are critical in this day and age, information technology and the internet is the highest source of engagement for most business, however within this sector investment plays a large role in the sale process therefore clients want to see the colour of the eyes of the agent they are dealing with to ensure a smooth transaction.
Our work has increased footfall and sales conversion by up to 60% in some locations.
Planning the Working Landscape
---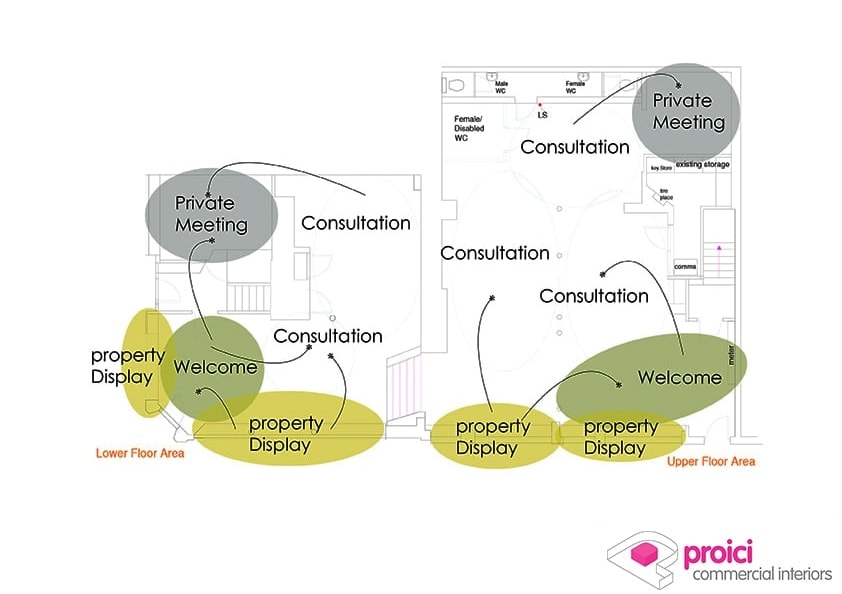 ---
---
Creating a Sustainable Workforce
Promoting the well-being of staff
---
The workplace is synonymous with your employees working life, it is where full time staff spend up to 45% of their weekly waking hours and studies show that the work environment can have a extraordinary amount of influence on their health and productivity.
Proici specialises in creating very precise working environments that boost productivity by introducing a space plan design that aids the workflow of the job being performed within it whilst promoting the spread of natural lighting levels.
Breakout spaces are a indispensable inclusion to any working environment as it provides a space where staff can unwind and recuperate, a crucial factor to weigh in when staff use a computer throughout the day. What is exciting about designing for the estate agent market is that we can incorporate a mixed breakout space that operates as a welcoming environment for clients as well as a breakout space for staff.
The Plan
---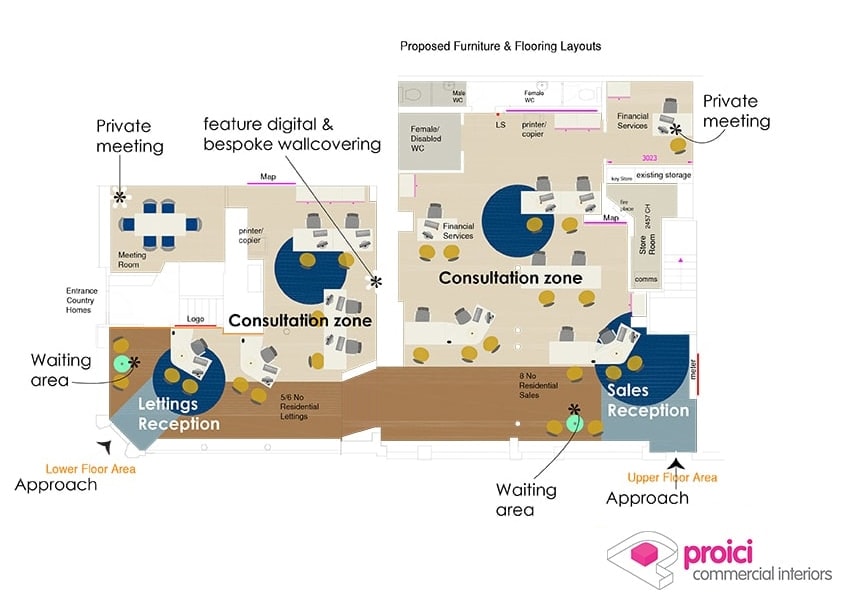 ---
A statistical report by World Green Building Council (WGBC) in 2012 states the following:
66% drop in performance when exposed to distracting noise
Our acoustical partitions can decrease noise pollution by up to 70%
46 minutes more sleep per night for office workers with a window
Our space-planning incorporates the spread of natural light levels around the workplace
35% less short term sick leave in offices with airflow from outdoors
A large range of easily operable window frame installations available
11% gains in productivity associated with improved air quality
optimal space planning to spread and equalise the spread of natural oxygen
10% reduction in performance associated with temperature extremes (15°C and 30°C)
20+ years of optimal and professional air conditioning and ventilation installations
Advantages of working with Proici Commercial Interiors
---
---
Let's Discuss
We would be more than happy to discuss our services further with you or to advise you in regards to your requirements.
Please contact us either on our Email: info@proici.co.uk or call us on: 0800 043 4516
---

---
"In 2010, Countrywide Plc took the decision to start to re-invest in their branch network. Clearly the property crash had taught us all many lessons and as a result, we were keen to ensure that we took the opportunity to partner with a team that shared our ambitions in "raising the bar" in terms of the look, feel and their practical nature."

"Proici were originally tested on the South Coast where we had taken the decision to extend the footprint of our Palmer Snell brand. From a very early stage it became clear that their previous experiences across many retail industries meant that they were prepared to challenge our thinking further than we had anticipated. What was also really quite surprising was their ability to quickly understand our size, culture and the needs of our different divisions whether that be mortgages, house sales or Lettings."

"Their designs and ideas were without doubt original and for some Countrywide members, quite a challenge to originally digest. When complete, the quality of work was exceptional and the tight deadlines were always met, despite having to work with our numerous departments that included IT and Premises."

"The feedback from our local management teams, our branch based colleagues and customers meant that our relationships with Proici extended to all parts of national network."

"We were particularly pleased to see staff retention increase together with our financial results."
– Vince Corley (Board Director Estate Agency – Countrywide)