Professional Interior Design
Functional, adaptive and stylish turnkey interior designs for over 18 years
Proici Commercial Interiors are the industry leaders in superior office, retail and public space layout design, having worked with some of the most prominent blue chip companies in the UK, including UNiDAYS and the Liz Hobbs Group, creating smart working environments which improve workflow, increase efficiency and heighten productivity.
Proici provides their own experience driven in-house designers who will work diligently with you throughout the entirety of the design process, helping you design and build your ideal work or leisure space that will help refine your corporate and public image. We can also work and manage the entire design process, letting you focus on your business and allowing you to continue your day-to-day operations with minimal disruption.
We always provide accurate, detailed designs that take into account all your necessary requirements, building regulations, planning permissions and industry standard requirements to ensure all works are upheld legally and can operate smoothly throughout future developments.
---
"From concept generation with a clear creative brief, to ensuring the open plan office space was a vibrant yet private place to work, Proici were able to bring the building to life"
– Liz Doogan-Hobbs (Lizz Hobbs CEO)
---
Design Brief:
Establishing the plausibility of your desired brief is the first step in the design process, taking into account your available space and budget to see if your idea is plausible. Whilst considering your financial parameters, we can root out if there are issues with the initial design brief, if issues arise then we will work with you to scope out a more credible and cost effective plan without sacrificing practicality.
Proici Commercial interiors have consistently helped define and redefine design briefs over multiple projects, including work in Office Interiors, Commercial interiors, Public interiors and many more sectors, providing complimentary ideas to further our clients brief through our experience and market research.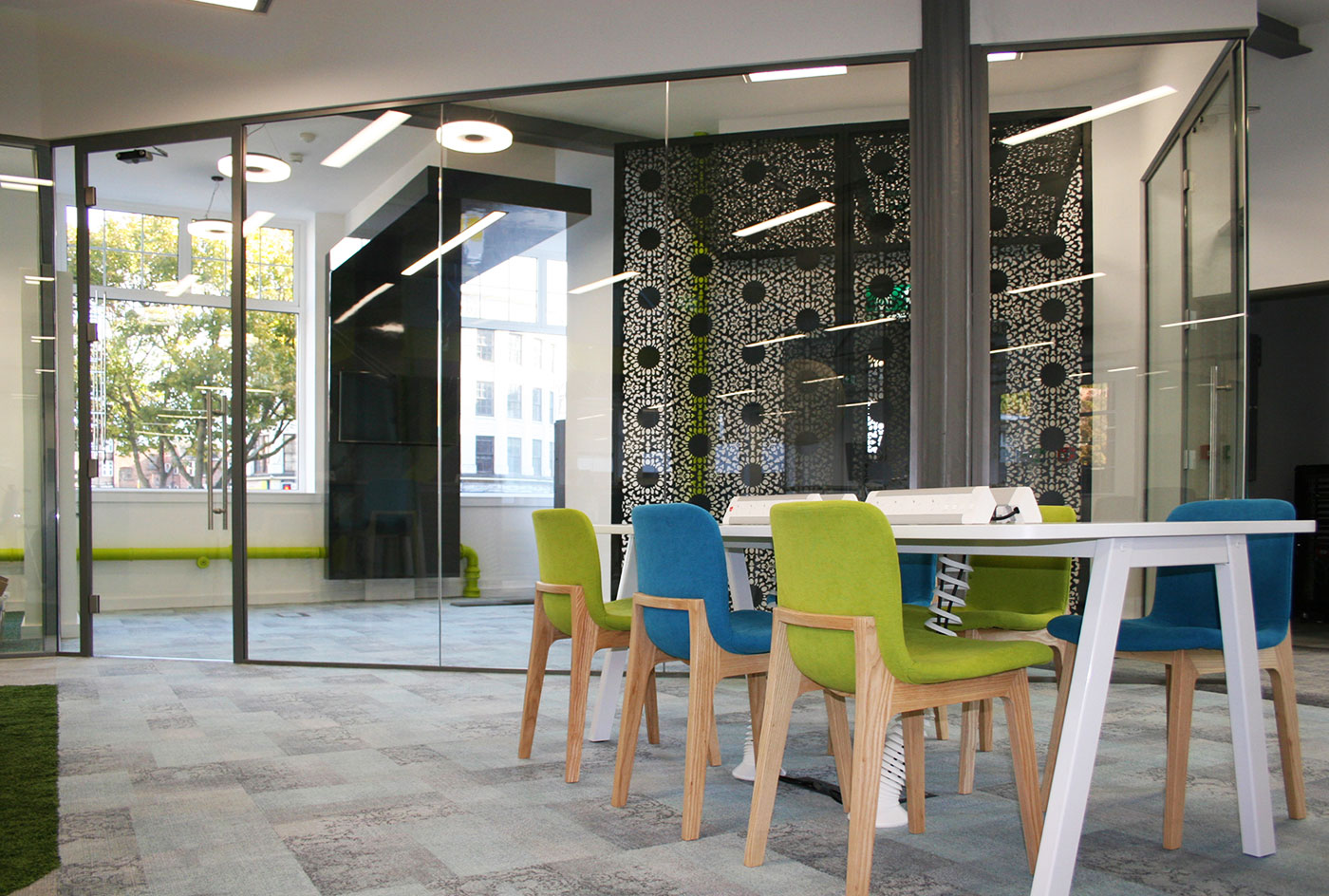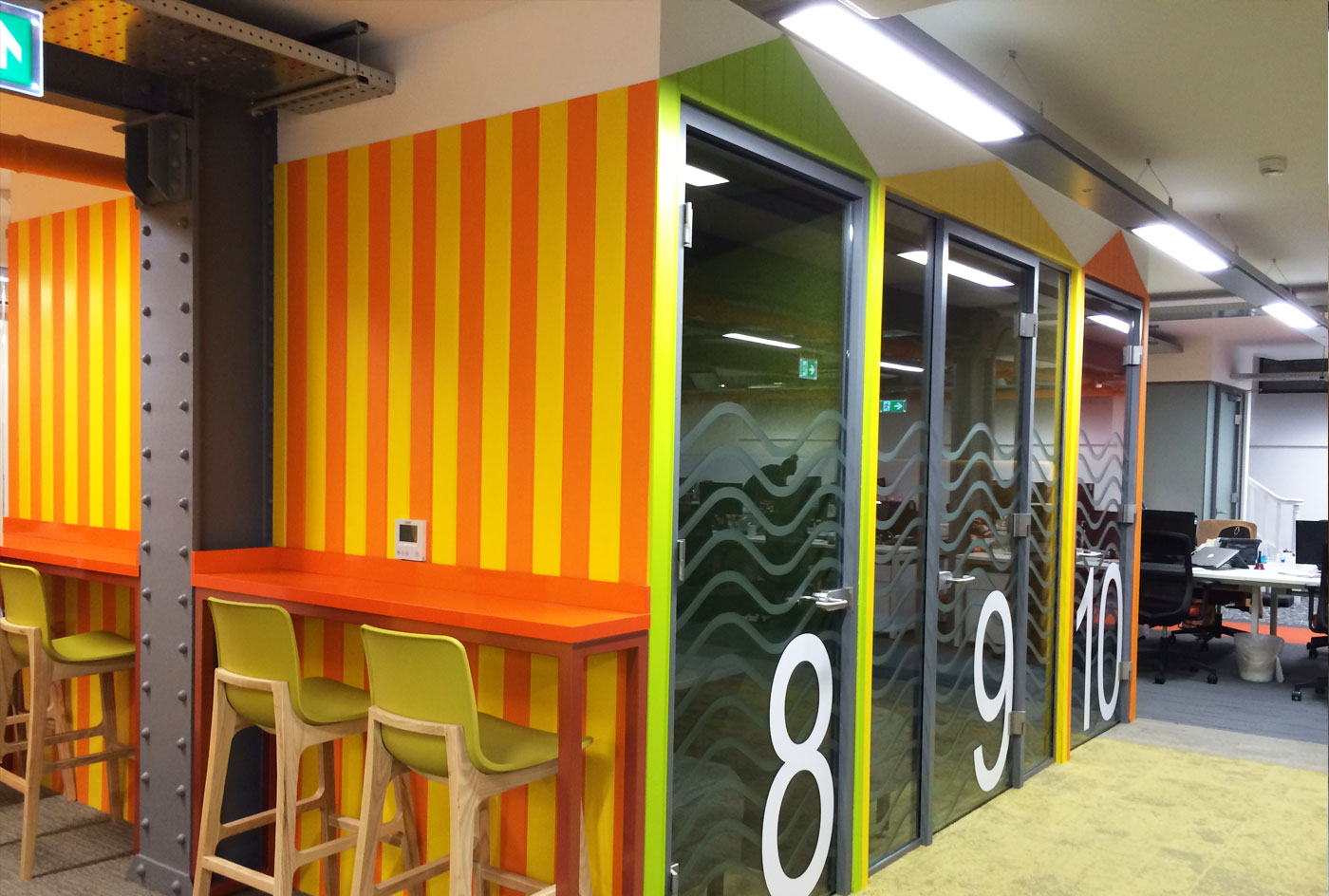 Site Survey:
On arrival at the site, we will conduct a comprehensive site survey to determine how we can make more efficient use of your existing space. When we have a total understanding of the building shape, structure and services, our
experienced in-house designers
will create CAD drawing space plans. We will then recommend strategical work groups and individuals that we know will maximise productive communication within the workspace. During this time, we will inspect the building for faults before swiftly rectify any issues prior to continuing forward, considering safety and industry regulations in the forefront of this process at all times.
The Interior Design:
This is a fundamental step where we translate your brief and workspace into a workable design solution, taking into account your budget, requirements and allocated timescale. We plan our full designs around a turnkey service, where we provide a dedicated project manager to work alongside you to ensure planning and designs do not waver until completion where we will hand over the completed project in an operational state, a turnover of the company keys.
We believe that every business and organisation is unique and we pride ourselves on understanding your business, workplace culture and your business goals before we progress. Your dedicated project manager will work with this information to produce an advanced work-space plan with you that fits all aspects of the agreed design brief whilst being able to further inspire the design.
Our design teams have an accumulation of experienced in everything from strategic seating planning to economical cable management, consistently making sure to optimise every fragment of the design brief to make sure you get the best possible outcome for your budget whilst expressing your core values.
It has been proven that a well-designed interior workspace can increase staff efficiency and morale by up to 25% whilst significantly lowering stress of all members. Our specialised workspace analysis plan is in place to ensure we offer an exclusively tailored solution for your company with the aim to improve staff morale, health and boost your staff's overall performance through organic influences.
On agreement of the designs, our in-house design team will create new CAD drawings and plans which will be shared with you so you can visualise your office plan and make any changes before continuing forward.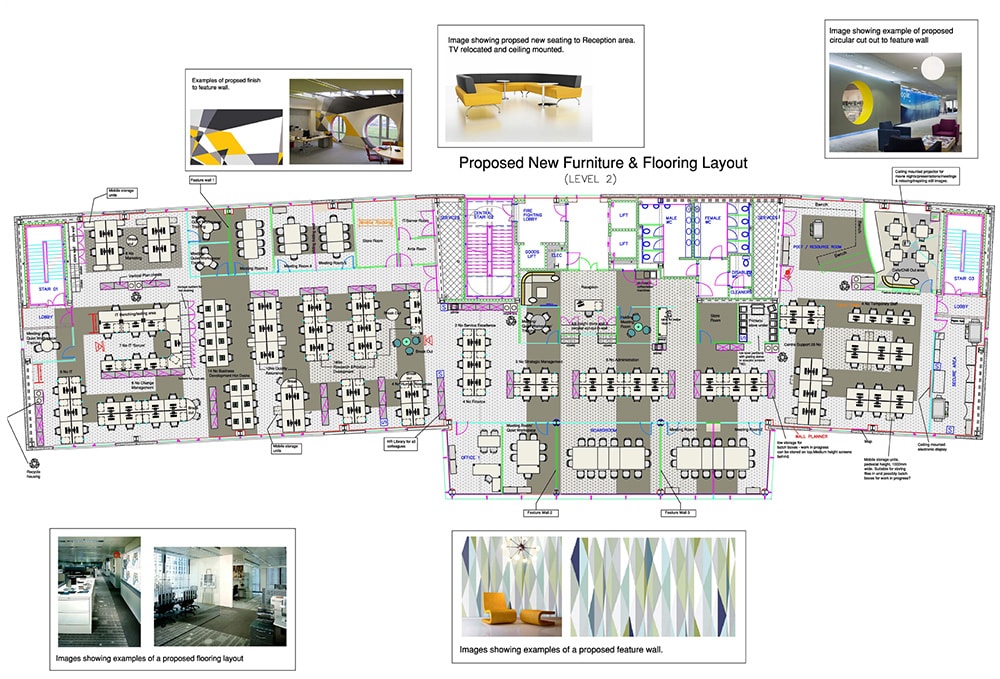 Product Selection:
Proici have diverse and extensive of knowledge of multiple branches related to interior design including the sourcing and installation of furniture, fittings and appliances for almost every requirement. The range of furniture, lighting fixtures, carpets and general materials available by our choice of distributors is vast and is ever increasing, only being outclassed by the amount of customisation options for each product.
At Proici we never waver on the quality of the products we provide, as such we have tested products from all the industry leading distributors that we predominantly work with in order to assure the quality and durability of their products. We will always provide unbiased advice as we are not bound by our selection of manufacturers and are always open to new partnerships with reliable sources when necessary to get the most optimal results for you.
For peace of mind, we will acquire samples of products and materials when needed in quantity so you can experience first-hand if it is an ideal choice for the design and practicality before we follow through with the purchases. These samples will be held at our showroom in Long Bennington and you are free to pay a visit to try them out or, in the case of smaller products, we can bring them directly to the site for you.
CAD Drawings:
Our in-house team of designers will be creating CAD drawings throughout the design and fit-out process using accurate measurements so that we can always assess our actions, making sure we are consistently using your space efficiently, adding changes as and when they happen.
If you need a new layout design for your workplace or general interior space, feel free to contact us for a speedy and cost effective solution by professional and experienced designers who will work to your timescale and budget.