Mechanical and Electrical
Mechanical and Electrical (M&E) Engineering
Electrical and Mechanical Engineering installations are extremely important to any company and carry a long-lasting impact on the value and productivity of your building, therefore it is essential to make sure that they are installed by an experienced mechanical and electrical engineering installation team who are aware of all safety regulations related to the installation.
Our mechanical and electrical engineering services are as expansive as they are flexible and are fully integrated into a seamless packaged solution alongside your regular fit-out in accordance to our agreed design brief.
Proici Commercial interiors have been sourcing and installing mechanical and electrical products for over 14 years, including Air Conditioning, Audio and Visual Technologies, (Data)Structural Cabling, Lighting fixtures and Plumbing systems alongside numerous other services.
Our experienced and pragmatic approach allows our trusted engineers to provide complete life-cycle solutions, including:
Design
Project Management
Supply Chain Management
Installation
Commissioning
Testing
Maintenance
Proici Commercial Interiors provide experienced installation teams that can install and maintain the very latest in energy efficient air conditioning systems available on the market.
Installing air conditioning systems into your workplace can create a controlled, comfortable and welcoming environment which will not only benefit your employees but will also create a space that your customers or visitors feel complacent being in.
We work with the very best, brand leading manufacturers in air conditioning such as Mitsubishi Electric so we can ensure that every system we supply and install will be fit for purpose and fully guaranteed under a trusted manufacturer warranty.
We can issue an extensive site survey at no extra charge to evaluate and calculate the most energy and price efficient solution to meet your individual needs. This service is often packaged within our full turnkey solutions free of charge and we can plan and optimise your fit-out to fully utilise the air conditioning systems efficiently.
The types of air conditioning systems available is always increasing and we are always on top of the market to make sure you receive the highest quality products.
Our experienced teams are fully trained in all aspects of health and safety legislation and we will provide risk assessment and method statements prior to site arrival helping you to comply with your own health and safety procedures.
If you need a full turnkey fit-out with the inclusion of air conditioning or just a standard A/C installation in your current space, get in touch today for a budget friendly quote!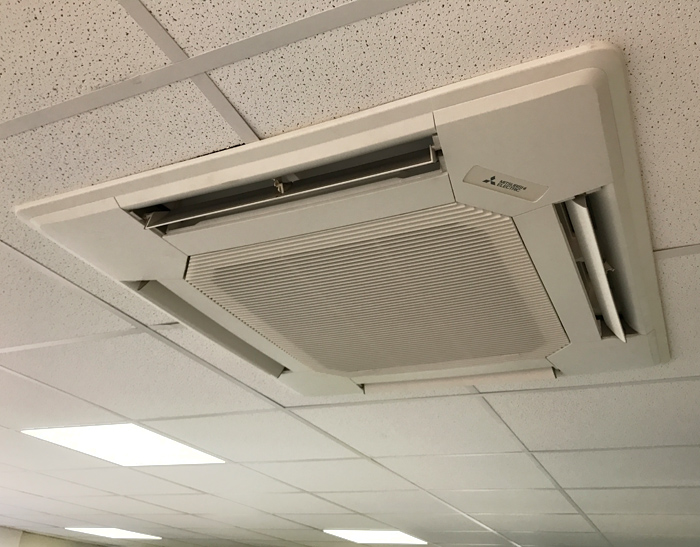 Some of the types of Air Condition systems available are:
VRV / VRF systems (Multiple cooling/heating)
Air Source Heat Pump Boiler
Wall mounted systems
Ceiling mounted systems
Ceiling concealed ducted systems
Floor mounted, air curtain systems
Ventilation systems
Close control systems
Refrigeration services in all applications
To learn more about our Air Conditioning installations click here .
Audio and Visual Technologies
We are currently living in the digital age, with technology exponentially enhancing the experience you provide your clients, consumers and staff; therefore, it is imperative that your systems are fit-to-purpose, up-to-date and most importantly within budget.
We only work with companies which have proven to be at the forefront of technical innovation, using state-of-the-art equipment and contain many years of experience within the specified project sector. Proici will work hand in hand with these manufacturers and fitters to provide you with the highest quality AV solution, at the most cost effective prices every time.
We offer a large range of AV technologies, always keeping up with on-going trends to ensure you are not only getting the latest technology but also that it is reliable, sustainable and is the best solution for your specific requirements. So, whether you need monitors around the office, wireless video conference devices or even fully integrated full video walls, Proici have you covered.
Our AV solutions include but are not limited to:
Video walls
Monitors
Interactive white boards
Interactive displays
Digital Signage
Small wall systems
Speaker systems
High Quality Projectors
Control systems
Media player devices
Data (Structured Cabling)
Proici provides a project managed and quality assured structured cabling solution that uses only the highest performance systems and is designed to grow with your business. Data and hardware connectivity is integral to almost every organisation and therefore it is important that the cabling is properly installed and meets all health and safety regulations for prolonged use. All our installations are designed to allow expansion and additional cabling in the future, ensuring you are prepared for expansion and further upgrading in years to come.
If you need to upgrade your existing cabling infrastructure, then you could benefit from dedicated Structured Cabling (Cat5e / Cat6e). It is an ideal solution if you need to add more equipment to your space or increase the numbers of users on your network.
Proici also offers a large range of industry leading AV (Audio and Visual) and IT (Information Technology) equipment which can be utilised alongside out structured cabling to provide your building with the highest quality, long lasting telecom services on the market.
Lighting
Environmental lighting is a crucial factor in creating an atmosphere within a space, it can even be a focal point of the space when designed correctly. Good environmental lighting consists of more than just a light source, a bright light may illuminate the room but without considering bounce lighting you are losing out on a major aspect of design.
Bounce lighting is an effect caused when a ray of light hits an object in the environment, reflecting the colour from the object onto other sections of the space and it is unique to each space. We are experts at designing lighting schemes that utilise bounce lighting to create the correct levels of light required by your business and to also balance the bounce light to create dramatic and ambient effects within the space.
Different environments need to have different levels of light depending on their functions and whilst some need an optimally lit working environment to improve employee productivity, some need to have their space stand out in the crowd.
Lighting fixtures are also key to creating an aesthetically pleasing environment and our mechanical and electrical engineering teams can offer a large range of fixtures from modern through to rustic, from hanging ceiling lights to small table lamps to fit any space.
Plumbing Systems
Proici Commercial Interiors plumbing services have become increasingly more essential during any turnkey project as it is every bit important for the comfort and well-being of staff and visitors as it a natural necessity. Our trusted teams of sub-contractors have worked with us for many years and have proven their worth throughout multiple large and small projects and as such we can guarantee an exceptional quality of marksmanship every time.
Plumbing works have a broad range of uses within a space including:
Kitchens & Tea points
Bathroom, WC & Wet Rooms
Showers
Saniflo Installation & Repairs
Water Tank Installations & Repairs
Drinking Water Machine Installations
Central Heating & Hot Water Installations
Drainage
We also offer a range of plumbing repair services during our fit-out projects such as supplying and installing new pipework, repairing burst pipes, leaked and blocked toilets.
Safety Advice
It is estimated that there are some 1200+ fires a year caused by faulty electronics, be it inadequately installed, badly maintained or bad production quality. These faults can, and often do result in a loss of resources, structures and in worst cases lives.
To this end they need to be inspected and tested regularly to British Standards BS7671 – IEE Wiring Regulations and all necessary replacements or repairs should be made in good time.
As a basic guide, in general business premises, inspections should take place every 5 years and in domestic situations every 10 years (or with change of occupancy). However, some properties and locations may require testing more frequently.